TaesLab
TaesLab - Thermoeconomic Analysis of Energy Systems for MATLAB
TaesLab is a software tool designed for the thermoeconomic analysis of energy systems. It is distributed as a MATLAB/Octave Package.
It is based on the thermoeconomic analysis works developed since 1986 in the University of Zaragoza. Spain.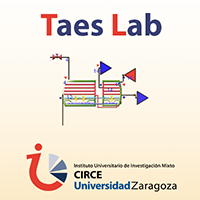 Its main features are shown here.
The current version, TaesLab 1.2, is under GNU License and can be downloaded from here.
Tutorials and Examples are available here.
Suport and Contact are available here